I never liked the idea of having a ďblogĒ, but a few people asked if Iíd be sending anything during my post-retirement trip, so I thought Iíd make a blog page on my website.† It seems to me the distinguishing feature of a blog is that itís upside down, with the most recent stuff at the top so to get the story from beginning to end you have to start reading at the bottom.† I hope people will find something interesting in what I put here.† For more about me, see my homepage, http://persjohn.net.
Iím including photos directly on my new postings, but later on Iím changing them to links so this blog page will be mostly text and wonít get too big.†
On Aug. 22 I added a map of my travels to date, now updated to Sep. 20, the day I returned to Houston.†
2008-09-24 Houston, TX
I returned to Houston on Saturday, Sep. 20, after 76 days and 14,946 miles on the road.† What an epic trip!† It was as successful and satisfying as I hoped it would be when I set out.†
The last few days were long drives since Diane called me home, wearied by the aftermath of hurricane Ike.† I got to see most of Hammersmith in the dark, although our house had power so Britta and Kendall had moved in.† But things improved Sunday when they got power back, and they and Diane were all back at work Monday, with traffic jams and debris piles being the biggest remaining impact for us, although even today many others in the area are still without power or water.
After my previous blog update on Thursday, Sep. 18 in Sheridan, WY, I got out of the mountains and onto the plains, and drove across miles of prairie in Wyoming, Nebraska, Colorado and Kansas to spend Friday night in Hays, KS.† Along the way this sign caught my eye:
<![if !vml]>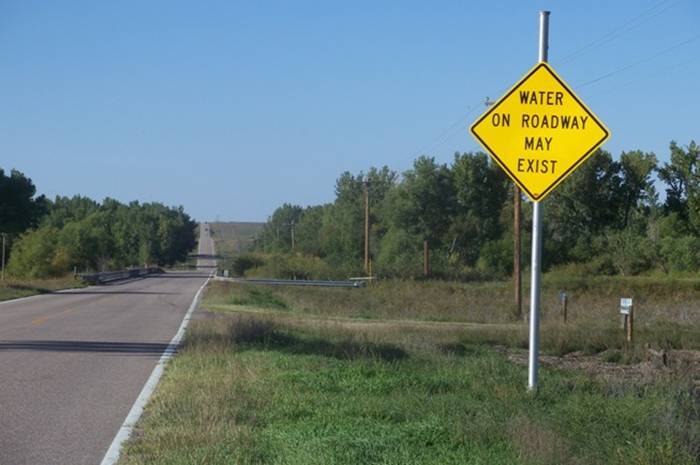 <![endif]>
ďWater on roadway may existĒ sounds like a bit of strange Colorado metaphysics, but we all know what it means.† There was no water around when I was there, indeed I had absolutely no rain from the time I left Calgary on Sep. 8 until now, days after Iím back in Houston already.† I drove 770 miles on Friday to get to Hays, KS, a long day but knowing that a similar distance would get me home.† I got up and on the road Saturday before dawn and drove in the dark for an hour in hopes of getting home before dark, and indeed after almost 790 miles on Saturday the sun was just setting as I turned off the Interstate to our neighborhood.† Everyone was happy to see me, and on Sunday we had a nice welcome home dinner on the world map plates Diane and I bought in Chicago when we were there for Sophiaís baptism in August:
<![if !vml]>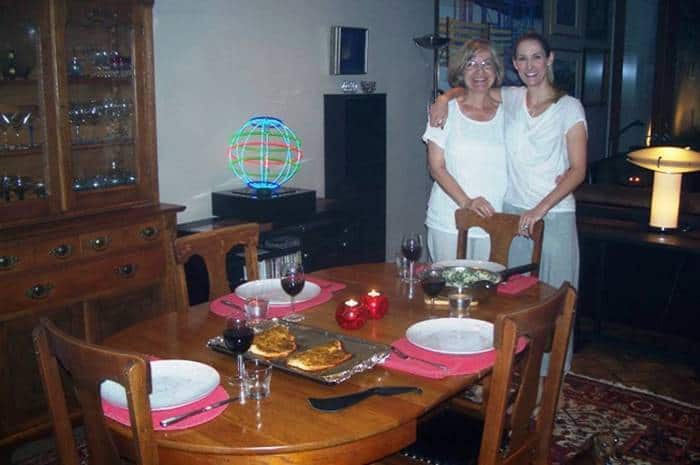 <![endif]>
It was good to be home, especially for the people, but also the dogs, and the familiar things.† My retirement neon globe (against the wall in the photo) seems to symbolize the scale of my trip, which in a straight line (well not really straight, but a great circle) would stretch more than halfway around the globe, from the south pole to the north and back around to the latitude of Rycroft or Dawson Creek.† And Iíd do it again, I tell Diane I just need a few days to rest up (just kidding).† So Iíll end this trip blog here, wrapping up a wonderful journey and ready for the next stage of my life in retirement.
2008-09-18 Sheridan, WY
Tonight Iím in Sheridan, WY, on my way home after I talked to Diane yesterday from Vancouver and she said sheíd really like me home to help cope with the aftermath of hurricane Ike.† Our house got power back yesterday, but Britta and Kendall still donít so theyíre staying at our place, and most of our neighbors, even right next door, donít have power yet either.† So Houston is still far from normal.
On Saturday, Sep. 13, I took the car ferry over to Victoria on Vancouver Island and had a nice dinner at Vista 18 (http://www.vista18.com/) with a friend of Dianeís who was her bridesmaid at our wedding.† Then on Sunday I drove north 60 miles to the Nanaimo airport where a friend of mine and college roommate was test flying an airplane heís built:
Itís a Pietenpol Air Camper, built from drawings originally published in 1932.† He started building about 30 years ago, and had only about 6 flying hours since heís still making adjustments.† But I got to see two flights which upped its time by 50%.† I donít think Iíd have the patience for such a project, but it is impressive to see someone who built model planes in our student digs do something like this.† He lives on Salt Spring Island, and works on boats at Ganges harbor, a picture postcard place:
Then I went back to my fatherís place in Burnaby on Monday, and on Tuesday helped him set up a new (to him, i.e. used) computer monitor, and on Wednesday, Sep. 17 I loaded up my car and said goodbye:
I stayed Wednesday night in Spokane, WA, and on Thursday I drove across Idaho and many miles of Montana (it felt as big as Texas):
Iím spending the night at Motel 6 in Sheridan, WY.† I drove from sunrise to sunset, no longer in sightseeing mode but aiming to get home.† Fortunately the weather has been beautiful ever since I was in Calgary, so the driving is pleasant.† And the scenery through the windshield is marvelous.
2008-09-11 Burnaby, BC
Diane and I stayed with her mother in Rycroft until Sep. 7.† While we were there we visited the market garden at Dunvegan:
Dianeís father was roadmaster on the Northern Alberta Railroad, and for old time sake she took a walk on the tracks:
One of the relatives in Rycroft is building a cabin on White Mountain with a wonderful overview of the farms across the prairie:
On Sunday, Sep. 7 we drove back to Calgary, bypassing Edmonton on a road we hadnít taken before, highways 22, 39, 20, and 12 through Drayton Valley and Rimbey and back on highway 2 at Lacombe.† We had dinner with our hiking friends in Calgary, and I took Diane to the airport early Monday morning before I headed west into the Rockies:
I spent Monday and Tuesday night with friends from high school, at their home on the lake in Oliver, BC, where we went for a bike ride, some more adventurous than others:
The weather was great, and we had a campfire by the beach in front of their house both nights.† On Wednesday I drove west to Hope, BC, where I camped and then on Thursday went to my fatherís place in Burnaby for two nights.† Dad and his wife and I visited my uncle and his wife in their condo, with a great view over False Creek in downtown Vancouver:
Then I kept a close eye on the Internet and TV for news about hurricane Ike on Friday, before I left on Saturday, Sep. 13, for Vancouver Island.† Diane spent Friday night with Britta and Kendall.† They were without power and a tree blew down in their yard, and Diane called on Saturday to say there was a lot of damage in Hammersmith, not to our house but many big old trees blown down and damage to other houses, maybe from a tornado.† Iím sorry I wasnít there to help, but glad our family fared pretty well.
2008-09-04 Rycroft, AB
I left Buffalo Narrows on Wed., Aug. 27, and drove south, heading for Leader, SK.† It was a long way, and I stopped to spend the night in the small town of Kerrobert, then on Thursday I drove on to Leader and 10 miles further south to the St. Johnís Lutheran Cemetery, on the bald but beautiful prairie:
My motherís parents are buried there, and many others from her family including her fatherís parents, so this is the largest concentration of my forebears:
I drove back roads, including a ferry crossing of the South Saskatchewan river, to Oyen, Alberta, where my motherís family moved when she was 7, and went from a German-speaking parochial school to English.† I carried on and camped for the night in Drumheller, after visiting the Royal Tyrell Museum in the ďbadlandsĒ where many dinosaur skeletons have been found:
On Friday, Aug. 29, I met Diane at the Calgary airport, and we stayed overnight after visiting family and friends.† My cousin Don Johnson lived in Calgary, a few weeks younger than me, but he died of cancer a few weeks before we arrived, so we visited his family.† And we visited Dianeís fatherís grave:
We also went by the house we lived in when we were in Calgary, again for sale although with prices there we might not be able to buy it back even if we wanted to:
Then on Sat., Aug. 30, we drove to Edmonton, and went by the house weíd lived in there before we came to Houston in 1982:
We stayed two nights in Edmonton, and on Sunday evening had dinner with our two friends there, in a restaurant with a great view overlooking the North Saskatchewan river valley:
On Monday, Sep. 1, we drove 350 miles northwest from Edmonton to Rycroft, where Diane grew up and where her mother lives.† Weíre spending a week with her mother, although yesterday we went 60 miles west to Dawson Creek across the border in BC to spend the night with Danielís brother and this wife:
While we were there, I got an email saying that my colleague from INCO who Iíd visited in Sudbury on Aug. 4 had died, with terminal cancer not a surprise, but I was surprised it was so soon after I visited, and pleased Iíd got to see him.†
So this week is a thorough refresh of our northern roots.†
2008-08-27 Buffalo Narrows, SK
This Wednesday morning Iím updating my blog in Buffalo Narrows, SK, before I head back south.† Yesterday I checked out of the hotel and had my breakfast in a park on the shore of Lac La Ronge, no picnic table so I used the back of my car:
Then I drove about 50 miles north, stopping at Nemeiben Lake where Iíd first gone into the bush to do geophysics on my 21st birthday in 1969.† I also thought of going even further north to Wierzycki Lake where I was party leader on airborne survey, flying off the frozen lake in 1971, but that was another 40 miles on gravel road, so I gave up that idea and turned around at Otter Rapids, where the Churchill River drops into Otter Lake:
On the way back to La Ronge, I stopped at Misinipe, the only place along the road where I could buy some snacks, and where thereís a bush plane base, something distinctive to northern Canada:
By then it was raining, and I thought if I was going to drive in the rain I wanted to get somewhere, and decided that I could make it to Buffalo Narrows before evening.† So I set out westward along a 100 mile gravel road that turned out to be even worse than I expected.† Based on what Iíd driven north of La Ronge, I figured Iíd average 45 mph and take less than 2 Ĺ hours, but it took 3 hours, and the road got worse as I went along.† I should have taken a picture of my mud-drenched car when I finally got back to pavement, but I was too frazzled from all that difficult driving to even think of photography.† Fortunately, I found a nice motel room in Buffalo Narrows, overlooking the bridge across the narrows which give the town its name, separating Peter Pond Lake and Churchill Lake:
I found a good history of Buffalo Narrows online, at http://www.jkcc.com/history.html. The area was notable even back in the fur trade at the end of the 18th century, but permanent settlement came in 1895.† Fishing as well as trapping was big business in the 20th century, but this slowed after the 1970ís, and with the road now completed further north, Buffalo Narrows has declined.† A big change I noticed is itís almost a dry town, the liquor store is boarded up and thereís no bar or other place to buy a drink in the evening.† Thatís definitely not how I remember Buffalo Narrows when I worked north of here in 1971-2, flying airborne geophysical survey off a frozen lake in winter and coming to town for supplies, and fun.
Today I plan to look around town a little more, then head for southern Saskatchewan.
2008-08-25 La Ronge, SK
Tonight, Monday, Aug. 25, Iím in La Ronge, Saskatchewan, staying in the La Ronge Hotel where I last was 35 years ago when I worked for INCO (I havenít yet updated the map).† But I canít talk about that yet since Iíve only just arrived.† I left Fargo, ND, on Friday, Aug. 22, and visited the towns where my grandmothers grew up.† My fatherís mother was born in Norway but came to the US when she was only 1 year old and grew up near Binford, ND.† I had coffee in the Binford Cafť:
My grandpa came there from Wisconsin to work, and they lived there for some years after they were married so several of my aunts and uncles were born at Binford.† My motherís mother was born in Upham, ND, shortly after her German family came to the US:
Both sides of my family moved to Canada after 10 years or so in North Dakota.† Visiting, I can see why they would see Saskatchewan as a step up, even then.† North Dakota is even emptier today than it was 100 years ago.† I stayed overnight in Bottineau, ND, near the International Peace Gardens where I crossed the border:
I took the picture above standing on the border, and only noticed later that it shows a phenomenon Iíve remarked on before, that at this latitude the curvature of the earth is noticeable because east-west lines, like the 49th parallel, bend north.† You can see the distant notch of the border cutline is offset quite a bit to the right (north) in the photo.
In Winnipeg on Saturday, Aug. 23, I visited and stayed overnight with friends we hadnít seen in over 15 years, a guy I worked with in Edmonton before moving to Houston, and his wife.† I remarked on their Frank Lloyd Wright style stained glass windows:
On Sunday, Aug. 24, I drove to Regina, Saskatchewan, where nearby is the set of the comedy series Corner Gas, so I had to visit:
I stayed Sunday night at a campsite north of Regina at Craven, SK, near the town of Strasbourg where I lived when I was 3 to 6 years old:
Then on Monday, Aug. 25, I drove north through Saskatoon, and went by the house where I lived from when I was 3 months old to 3 years:
My father built the original house, which is still the core of the present house, although turned 90 degrees and extensively remodeled and added onto.† After this visiting I had about 5 hours in the car to get to La Ronge, so my touring here will be mostly tomorrow.
2008-08-21 Fargo, ND
Tonight Iím in Fargo, ND, and as predicted I havenít found time to update this blog since my first day in Chicago.† On Friday, Aug. 15, I picked up Diane and our daughter Britta and her husband Kendall from Midway Airport, and they saw baby Sophia for the first time:
On Saturday, Aug. 16, one of Nilsís colleagues from Northwestern Medical Center hosted a baby shower, and we got a picture of the ďoriginal four,Ē our daughter Britta on the left, our son Nils, Diane, and me:
It was at a house built in about 1910 northwest of downtown and a great location especially because the Chicago Air and Water Show was on, and the Navyís Blue Angels seemed to use a church steeple near the house as a turning point, so we got a really good view.
Then on Sunday, Aug. 17, was the main event, Sophiaís baptism in the parish hall of Holy Name Cathedral (unfortunately the main church is closed for renovation):
Sophiaís motherís father and Britta were sponsors.† Sophia wore the same gown that my mother made for my baptism in 1948:
There are more photos of the baptism and our visit on Sophiaís blog.†† Everybody stayed a few days after the baptism and did some touring, including a Cubs game at Wrigley Field on Tuesday, Aug. 19:
Then on Wed., Aug. 20, I dropped off the Houston visitors at the airport and loaded up my car again for the western loop of my transcontinental tour.† It was after 3:00 pm by the time I got on the road, and I drove to Wisconsin Dells, a little past the state capital of Madison, and stayed at a Motel 6, bypassing all the water parks and other attractions the Dells is known for.† This morning I was up early for a hearty breakfast at Cracker Barrel, and drove the 450 miles to Fargo, ND, where Iím at Motel 6 again.† The drive was easy enough, but Iíd felt I was coming down with a cold the last couple days and today it made me just miserable, sneezing, sniffling, eyes running and all the typical aches.† I hope I feel better soon.† Tomorrow Iím off to the small towns west of here in North Dakota where two of my grandparents grew up, my fatherís mother in Binford and my motherís mother in Upham.
2008-08-15 Chicago, IL
I spent Wednesday night in Manitowoc, WI, where I visited the Wisconsin Maritime Museum (http://www.wisconsinmaritime.org/):
The next day didnít go quite as planned Ė car trouble again, what is it about Wisconsin that my car doesnít like?† When I started up in the morning, instead of idling steadily it would surge to 2000 rpm for a second, then drop back, then speed up again.† So I looked for a mechanic, and by then the ďCheck EngineĒ light had come on, but after a quick consult with a mechanic in Manitowoc I headed for the same shop in Chicago where Iíd had the AC compressor replaced a month ago.†
Nils helped me unload at their place and take my car to the shop.† I stayed with them last night, and really noticed how Sophia has grown:
Later today I pick up Diane and Britta and Kendall, arriving from Houston to Midway Airport, and tonight we go to Second City (http://www.secondcity.com/).† It will be a busy time with Sophiaís baptism on Sunday, until I drop Diane and B&K off again at Midway on Wednesday.
2008-08-12 Calumet, MI
Yesterday, Monday, I drove from Sault Ste. Marie across into Michigan and west across its upper peninsula.† This is remote territory to most Michigonians (my spell checker is griping about this word, but Iím not on the Internet so canít see what it should be, Michigoons?), but itís the only part of Michigan Iíve ever visited.† I came here first in 1972 when INCO had an airborne survey crew in Houghton on the Keweenaw peninsula, the upper-upper peninsula of Michigan poking up into Lake Superior almost to Canada.† I camped Monday night at Baraga state park at the south end of the Keweenaw.† I wonít bore folks with another photo of my tent, but it was a nice park and the first time I took power for my tent, only an extra $2 but the best campsite were electric so that helped make the choice.† The weather was great, and I read with electric light in my tent until 11:00.† I was surprised in the morning by how much dew there was, the tent was pretty wet and I toweled it off before having my morning shower so it had a chance to dry out.† Then I drove about 30 miles north to the twin cities (twin towns, total about 10,000) of Houghton and Hancock, spanning the Keewenaw waterway which almost cuts the peninsula in two.† On the north side above Hancock I visited the historic Quincy copper mine (http://www.quincymine.com/):
Copper was a huge industry here in the late 19th and early 20th centuries, but all the mines are now closed and thereís now a National Historical Park (http://www.nps.gov/kewe/).† The special feature of the Quincy tour is its hoist:
The hoist drum is 30 feet in diameter, driven by steam, and the operator stood by the wheels at the top of the spiral stair and used levers to turn the drum to move the cars up and down the shaft.† This was the deepest mine in the US, almost 10,000 feet down, and the hoist was key to bringing ore to the surface, as well as carrying miners up and down and scooping out water.† I decided to indulge myself and stay Tuesday night in a B&B which was built as a mansion for a copper baron, the Laurium Manor Inn (http://www.laurium.info/) in Calumet:
The glory days of this area are long gone, and they talk about the years here AC (After Copper).† This is another example of something Diane and I encountered first in Natchez, MS, this spring:† ďpreservation by poverty.Ē† Many of the great old building are still standing because after the wealth that produced them ended they were neglected, with no new economic incentive to tear down and build new.† Tourism is now the main business, but that seems slow to me.† This is a remote area of the US, not on the road to anywhere, and if it hadnít been for the copper boom it might be as empty as the west Texas area around Big Bend National Park.† A sign of its remoteness is the Internet is down, not just at the place Iím staying but widely around here, apparently a broken cable somewhere.† And my cell phone doesnít get any signal either.
Tomorrow (Wednesday) I plan to drive south into Wisconsin, so I can get into Chicago easily on Thursday afternoon.† Then I expect it will be a busy few days of family visiting around Sophiaís baptism, so this may be my last blog update for a week or so.
2008-08-10 Sault Ste. Marie, ON
Iím writing this blog update on Sunday evening, Aug. 10, in a motel room in Sault Ste. Marie, Ontario, after 3 nights of camping.† I left Geraldton on Friday, aiming to continue west on highway 11, the northern trans-Canada, to Nipigon where it meets up with highway 17, the southern route, and turn back east along the north shore of Lake Superior.† After camping at the Ontario park near Geraldton I realized that the provincial parks were quite nice, so I headed for Rainbow Falls park.† Along the way I encountered the bane of Canadian vacationers in the summer, road construction:
On a two lane road, when they close a lane itís one way traffic, so you wait, sometimes almost forever, for the traffic from the other way to come through.† This was an experience from my early days that I hadnít planned to relive quite so vividly.
Rainbow Falls was a nice campsite, but just a few minute after I got my tent up it started to rain.† And not just a little, it poured, and showered on and off until after I went to bed around 10:00 pm.† Before the rain I went down to the shore to lie on the granite outcrop and read, but the rain started before I even finished a paragraph.†† I decided since camp was wet Iíd go find a place to eat, and was surprised to find a fine restaurant nearby, Serendipity in Rossport (http://www.serendipitygardens.ca/cafe.html).† I had a nice meal of lake trout, and blueberry shortcake for dessert.† The weather cleared overnight, but the tent was still wet when I packed up, so I thought it would be good to use it again soon and dry out.† I bypassed several provincial parks, figuring there are thousands of lakes but only one is Superior, so I drove to a campsite in Lake Superior provincial park at Agawa Bay (http://www.lakesuperiorpark.ca/), and with clearing weather watched a beautiful sunset over the water:
Then this (Sunday) morning I drove into the city of Sault Ste. Marie, and went on a tour boat through the locks connecting Lake Huron with Lake Superior, a lift of 21 feet:
I also visited the Canadian Bushplane Heritage Centre, http://www.bushplane.com/.† It was great to see the stories of these airplanes on floats designed to fly off all the lakes in northern Canada, and recall the times early in my career when Iíd flown in many of these airplanes.
Tomorrow Iíll head south into Michigan, aiming to spend a couple days in the Keweenaw peninsula before heading to Chicago for Friday.
2008-08-07 Geraldton, Ontario
Tonight Iím in Geraldton, Ontario, 5 days after I last updated my blog before I got into Canada.† My first 4 days in Ontario were filled with people, first near Barrie about 60 miles north of Toronto where I visited a friend weíd met in Calgary who moved back to Ontario to be near her family and bought a 40 year old cottage within a kilometer of the beach on Lake Simcoe.† She took a photo of me in front of her house:
I arrived on the Sunday of a three-day weekend, Canadians are determined to have a long weekend every month, especially in the summer, and there was a big craft festival going on so every campsite was booked within 100 miles and I had to settle for a second (or third) rate motel.† Then on Monday, Aug. 4, I drove north to Sudbury where Iíd worked for INCO, one of the worldís largest mining companies, from 1969 to 1974.† About a year after I started there we moved into a new building, which is still the exploration office and looks remarkably similar, other than a nice new sign:
I drove around town and was able to find the house Iíd lived in with a couple other guys from INCO airborne geophysical surveys in 1974, just before I went back to U of A to do my Masters degree.† I wasnít planning to visit anyone in Sudbury, but I remembered the name of someone I was able to find in the phone book.† He invited me over in the evening, and I was dismayed to learn he is suffering from terminal cancer, so I was very glad that I decided to call and managed to connect with him, since heís continued to work for INCO for a long time and knew a lot about others weíd worked with in the old days.†
His daughter currently works for INCO exploration and invited me to come to the office on Tuesday morning to see another guy Iíd worked with, so that was another nice visit.† I was surprised he is still there after all these years, although planning to retire soon, so certainly a good thing I made this trip this year.
On Tuesday I continued on another 300 miles to Kapuskasing in northern Ontario, where Iíd made contact by phone with another guy Iíd worked with quite a lot at INCO, and who Iíd last seen on his wedding day, Aug. 31, 1974, when I was driving through Kapuskasing on my way to U of A in Edmonton.† Weíd had no contact since then, so he was quite surprised when I phoned the week before and asked if he remembered me.† He was keen to have me stay at his place, and I spent two nights with him and his wife, in the house they built on 10 acres they bought soon after they were married.† They have two grown sons no longer at home, and he still works for the same company he started with there 35 years ago as a millwright in the paper mill, the main industry in town but now in decline.† They have an ideal home overlooking the Kapuskasing River, and I really enjoyed my visit:
Today, Thursday, Aug. 7, I drove on west, past a sign that said 500 km to the next MacDonaldís:
I didnít go that far, just 200 miles to Geraldton, where Iíd worked briefly in the field for INCO in about 1972.† I drove up about 40 miles north of Geraldton to Nakina, an even smaller town of about 700 but on the trans-Canada rail line.† I took a photo of the train station, where Iíd taken a similar photo 36 years ago:
The station has had a big renovation, but the sign is similar, with distances west to Winnipeg and east to Toronto and Montreal, still in the now-obsolete units of miles.
After all the nights indoors I recognized an opportunity to camp out at MacLeod Provincial Park, 5 miles outside Geraldton:
The weather wasnít quite perfect, there were a few light showers all day but the forecast was for clearing so I set up camp.† My camp cot doubles as a recliner, so I sat by the lake doing this blog update until a shower sent me running for cover.† I went into town for a sub in a pub (sounds more elegant than it was), and hope for a good sleep.† This is the first time itís been cool, so Iím wearing long sleeves and pants, and will be inside my sleeping bag for the first time Ė Iíve been sleeping on top of it with just a sheet before.
One of the philosophy professors at the Star Island conference said something that will stick with me:† the automobile is the modern equivalent of the monastic cell.† She was talking about time spent alone in her car commuting, but the idea certainly resonates with me on this trip, especially now that my intensive days of visiting people are done and I head off for a whole week on my own, driving across the northern wilderness.
2008-08-02 Watertown, NY
Itís been over a week now since I last updated my blog on Jul24, before I got to Star Island, where Iíve been for the past week, attending the annual conference of IRAS, the Institute on Religion in an Age of Science.† On my way from Brattleboro, VT to Portsmouth, NH on July 25 I went through an area where theyíd had a tornado the day before, unusual weather for this part of the country, and I had to wait in slow traffic passing crews fixing power lines:
Star Island is a small granite shoal (1/10 sq mile) in the Atlantic off the coast of Portsmouth, NH, and almost on the border with Maine.† The main facility is a 19th century hotel built of wood:
My room was in the main hotel, on the far right of the picture, on the 3rd floor (just below the eaves), a corner room with windows facing both ways.† I donít know what I did to get such an exceptionally good room, and the stairs helped me keep in shape, even carrying up hot water since there is none in the room, just a washstand and basin:
Even though facilities are not modern, Star Island is an exceptional place, and Iíve been devoted to it since my first trip there in 1999; see my report on that experience at http://persjohn.net/IRAS1999.htm.† A lot of discussion takes place on the front porch of the hotel:
The first time I went, I thought ďWhy so many old people?Ē† Now I feel like I fit right in, although one of the appealing things about Star Island is the many families who come, some bringing grandchildren.† We took our daughter and son-in-law in 2005 and tried to take our son and daughter-in-law in 2007, but the IRAS conference last year was cancelled at the last minute so the 4 of us took a driving vacation aound New England and the Maritimes instead.† I was reminded of this when I watched the tour boat go past Star Island this year, passing in front of a nearby island with a lighthouse:
Most of the days at IRAS on Star have lecture presentations in the main conference room:
The conference ended on Saturday, Aug. 2, and I was in my car and on the road by 9:30 am.† Next, Iím headed to Ontario to visit some of the places I worked early on in my geophysical career.† I drove about 400 miles across Massachusetts and upstate New York on I-90, then turned north at Syracuse onto I-81.† It was after 8:00 pm by the time I found a room in Watertown, NY.† I figured it would be cheaper than a room in Canada, and was already a long day, so Iím saving that for tomorrow.† Itís a long holiday weekend in Ontario, and I hope that early Sunday will be a good time to cross the border.
2008-07-24 Brattleboro, VT
I didnít get to Binghamton yesterday, I stopped in Bath, NY, where I saw a sign for the Curtiss aviation museum (http://www.glennhcurtissmuseum.org/), and I decided to stop since Iíve always been interested in early airplanes.† I stayed overnight and saw the museum right when it opened Thursday morning at 9:00.† I realized that with only 300 miles covered in the last 2 days Iíd have to do better today, so I didnít linger.† Curtiss is especially known for flying boats:
Then I went on 20 miles to the other thing that caught my attention on the billboards, the Corning Museum of Glass (http://www.cmog.org/):
Itís a great display of art glass, demo of glassblowing, and exhibits on the things developed by their researchers, advances in optical glass, fused silica glass, and glass ceramic.† The walk up to the museum threatened to be wet with rain, but I didnít take an umbrella and was lucky to have only some sprinkles, although yesterday and today were real drenching rains in the Northeast with floods in some areas.† The walk to the museum was lined with tall grasses, and you could slip to think Museum of Grass.
I got back on I-86 at 12:15, aiming to get to Vermont.† The road was good and not too much rain, and rush hour in Albany wasnít too bad so once past there I decided to press on all the way across Vermont to Brattleboro, where I phoned ahead to book at Motel 6.† I got in around 7:00 pm and had a nice dinner nearby, and figured the distance tomorrow to Portsmouth, NH, is less than 150 miles, so I hope to enjoy a more leisurely trip across New Hampshire.
Iím going there to get to the IRAS conference next week on Star Island.† Star is a granite shoal 7 miles offshore, on the border of NH and ME, and the IRAS conference this year is on Emergence.† I wrote a related short essay on Emergence in 2006, http://persjohn.net/emerge061027.htm.† Star Island is a great retreat from modern life (see my review of the 1999 conference, http://persjohn.net/IRAS1999.htm),† with no Internet and barely any telephone, so I expect this will be my last blog update until I get back to the mainland after the conference on Aug. 2.
2008-07-23 Chautauqua
On Tuesday, July 22, I left Cleveland and headed east.† I stopped for lunch in Erie, PA, at Presque Isle State Park and got sand in my sandals on the beach:
Then I drove on into New York, aiming to take the southern route along I-86.† Only a few miles across the state line I was surprised to see a sign saying ďChautauqua InstitutionĒ for the next exit.† Iíd heard about Chautauqua but had never before been there, and especially since IRAS is planning the 2009 conference there I quickly decided to take the exit and see the place.† The Athenaeum Hotel there is much more grand than Star Islandís Oceanic:
Chautauqua is BIG, not your usual conference facility, a whole village, an upscale gated community of culture.† You can buy property there, but kind of like owning a condo at a ski resort the big attraction seems to be rental income.† I arrived about 4:00 pm and got a whole packet of information from the welcome center, and a ticket for the evening symphony concert.† Thereís no tent campsite, but they sent me down the road a few miles to Camp Chautauqua, a private campground shockingly expensive at $27.50 for a tent site with no electricity or water, and washrooms not just down the hall but down the road.† I checked out my site, then headed back to Chautauqua Institution, parked for another $6, and scanned in at the gate (everyone needs some kind of ticket or pass to get inside) to look around.† It is a beautiful site, lots of facilities and services.† I think I got a sense of the place in a few hours, but Iím not sure what it would be like to spend a week there.† I hope to find out in 2009 with the IRAS conference.
I left the concert early so I could set up my tent before dark, and by the time I brushed my teeth I needed a flashlight to walk back to my tent so I went right to bed around 10:00.† It was my least satisfying night camping out so far.† Some previous camper had left a bag of trash near my site, and raccoons or some other scavenger tore into it in the night.† And I had a mosquito in my tent, maybe more than one since I heard it buzzing around my ear three times.† Then at 2:30 I woke up to some sprinkles and got up to put the fly over my tent Ė Iíve been sleeping without, and just open screen for half the tent overhead.† Iíd done this exactly once before, when I did a test set before leaving home, but Iím pleased to say I managed to put its ridgepole in place and tie it all down without even using a flashlight.† I got back in bed before much rain fell, but when I heard a peal of thunder that rumbled on for 20 seconds I thought oh no, here comes a downpour.† But it didnít, and just sprinkled for a while.† After that I got a good sleep until it got light around 6:00.† Things improved from there.† I got up and had a nice hot shower, got a pot of coffee on to perk, and found NPR on the radio.† It was quite a nice morning, not hot and sticky like down south, so I enjoyed eating my grapefruit and granola outside, and fortunately the tent was dry enough to pack up:
Still it was my least favorite campout so far, and I got on my way a little after 8:00, taking the back road (394) into Jamestown, where I found a Wal-Mart and bought new ice and a couple other things and found out that thereís a new Starbucks in town, where Iím writing this.† I like Starbucks because they have ATT Wi-Fi and usually a place to plug in for power too.† But this place had not Wi-Fi, so Iíll have to wait for another stop to upload this and check email.† And my coffeeís empty, so Iíll head on toward Binghamton today, and McDonaldís also has ATT Wi-Fi in many locations although no power outlets for customers, so I should be able to connect.†
2008-07-21 Chicago to Cleveland
Today I said goodbye for the first time to my granddaughter Sophia, after the wonderful 10 days I spent with her and Nils and Allison in Chicago.† My plan was to get up and leave with Nils when he goes to work at 6:45 am, conveniently before the parking meters kick in at 7:00.† Iíll really miss the mornings, getting up and sitting at my laptop overlooking the Chicago River, the view up to the Wrigley Building, and Wacker Drive (my car was parked on Lower, Lower Wacker, behind the empty lot and the red construction trailer; we watched the Blues Brothers movie Saturday night, they didnít quite get here).†
I took a last look at Sophia sleeping in her crib, and Nils helped me haul my stuff to the car:
Nils headed off to his work, as a Fellow in cardiology at Northwestern University Medical Center in downtown Chicago.† He took my picture too as I headed off:
I left at 7:05 from their place on South Water to loop up via Randolph and Columbus right beside the old Amoco Building (now Aon) onto Wacker and onto Lake Shore Drive to I-55 and I-90.† Thinking of my former employer, BP, I realize that todayís trip is from the old Amoco headquarters in Chicago to the old Sohio headquarters in Cleveland, both these corporate identities now subsumed in the new BP, just initials but probably more closely related to the old British Petroleum than to the other heritage companies.† It was an easy drive on the Interstate, past my old team administratorís home town of East Chicago and the BP Whiting refinery, all the way to Cleveland where I was aiming to visit the Rock & Rock Hall of Fame and Museum:
I really enjoyed my nostalgic visit at the R&R Hall of Fame, arriving at 1:30 but surprised at 4:35 when they told me it was closed.† I realized Iíd forgotten to switch to Eastern time, and it was really past their 5:30 closing time.† So I headed off to the Motel 6 where Iíd booked a room, in Mentor about 20 miles east of downtown, and where I found a nice place for dinner (TJís Italian restaurant), stocked up on groceries (Giant Eagle), and right across the parking lot got Internet at McDonaldís and filled with gas at BP.† So Iím expecting with all the miles today that it will be an easy trip to Portsmouth, NH, by Friday.
2008-07-17 Chicago
We had a relaxed weekend around the apartment, walking and picnicking in the park, and I finished my review of Douglas Hofstadterís book I Am a Strange Loop to warm up discussion for the IRAS conference in a couple weeks.† Then on Tuesday, July 15, Nils and I drove up to Stockholm, Wisconsin:
My great-grandfather Eric Johnson immigrated from Sweden and settled on a farm in the Stockholm area in 1854.† He lived there until 1900, and is buried in the old cemetery of Sabylund Lutheran Church nearby, along with my great-grandmother Anna and some of their children:
My grandfather, also named Eric Johnson and also married to [a different] Anna, was born and grew up on the farm near Stockholm, but then moved to North Dakota and later to Alberta.† Also born nearby (<10 miles) in my great-grandfatherís time was Laura Ingalls Wilder, in 1867, the author of the Little House series of books and the best-known person from the area.† Her birthplace cottage is restored, and there is a museum in nearby Pepin.† The towns of Stockholm and Pepin are on the shore of Lake Pepin, a widening of the Mississippi River, with dramatic bluffs above Stockholm overlooking the broad valley.† There are family stories about crossing the lake on the ice in the winter to the Minnesota side.† Nowadays Stockholm is a tourist town, especially on summer weekends, with arts and crafts shops and an official population of 97.† One of the shopkeepers told us about a well-known local event on Tuesday evenings in summer, pizza night, when an organic farm near town bakes pizza in an outdoor wood-fired oven and people picnic on the lawn.† Thereís no advertising and not even any signs, but it was easy to find.† Nils and I didnít come prepared for a picnic, but we did get a pizza and made the best of what we had in the car:
We stayed overnight at a motel in Pepin, then on Wednesday drove back to Chicago, stopping at Taliesin, the home of architect Frank Lloyd Wright:
We took their Highlights tour, 2 hours through the Hillside School and the residence.† With all this, it was about 9:30 pm when we got back to Chicago.
The big excitement of the trip to Wisconsin was on Tuesday when we stopped in La Crosse for a coffee and noticed a loud clattering noise coming from the carís engine.† We opened the hood and saw that the A/C compressor wasnít turning smoothly, and although turning it off didnít stop the noise it did change it.† So we went hunting for a Honda dealer, who said they couldnít do anything until the next week, not even look at it.† But they did send us to a good mechanic, Pete Conway, who listened with a stethoscope and said yes indeed, the A/C pulley bearing was worn out.† There was no part in town, but he said plan B was to cut the belt, which stopped the noise and guarded against it seizing up and doing more damage.† So we were without A/C for some hot driving, but at least we were wearing shorts and not needing to look crisp.† We got on the Internet and found a shop in Chicago specializing in Hondas (Haas), and made an appointment for Thursday.† This is the first mechanical failure on my 1998 Civic, which has been very reliable for 10 years and 120,000 miles.
So early this morning Nils and I got up and drove halfway out to OíHare to leave the car and ride the Blue Line train back downtown.† We walked home through Millennium Park and took a photo by the Cloud Gate, popularly known as The Bean:
When we got home we picked up the packages from the delivery room downstairs, a new computer for Allison and a laundry hamper that Diane and I ordered for Sophia:
And I showed Sophia the MFAH book Diane and I gave her:
Tonight we go to the taping of the NPR show Wait WaitÖ Donít Tell Me!, and leaving the car at the shop until tomorrow will take care of the parking problem so we can sleep in tomorrow morning.
2008-07-13 Chicago
Of course Sophia is the center of attention, both for me and her parents.† Iíve been trying to get good pictures of me with her, but itís hard with the camera since she opens her eyes widest in dim light.† Hereís me holding Sophia on the couch in their apartment (actually a futon which makes into my bed at night):
Diane and I bought a baby present for Sophia at the Museum of Fine Arts in Houston, a little fabric book with touchy-feely pages which her parents open to show her:
On Saturday Nils and I went to Ale Fest at Soldier Field, close enough to walk to from the apartment.† For $40 each we got tickets for 20 beer samples each and a souvenir 3-oz glass.† We had a nice time trying all kinds of things, but didnít quite finish our tickets and came home the lazy way, in a taxi.
2008-07-11 Chicago
I arrived in Chicago as planned on Friday, July 11, to visit our son Nils and his wife Allison, and especially Sophia, our first grandchild just 2 months old today.† The first thing I had to do was take her picture:
She looked happy to see me, and so did her parents:
Sophia is very tech-savvy, and already has her own blog.† I got to carry little Sophia around the park outside their new apartment, where theyíve upgraded to two bedrooms.† Itís very nice and quiet, even though itís right downtown, just a couple blocks toward the lake from the old Amoco building:
So granddaughter Sophia is the big news here, not much else to tell from my trip since Arkansas.† From Mountain View I drove on Thursday to Marion, IL, about 330 miles south of Chicago and stayed in a handy Motel 6 with a good pizza place nearby where I had dinner.† So on Friday it was a straightforward trip up I-57 to Chicago, and traffic wasnít too bad into town every though I arrived at 5:00 pm.† Here I can stay for free, but what costs is parking.
2008-07-09 Mountain View, AR
On Tuesday, July 8, I drove from Caddo Lake to Mountain View, AR, stopping along the way at Crater of Diamonds State Park near Murfreesboro, AR.† Iíd wanted to visit Crater of Diamonds since I first heard of it back when we lived in Tulsa, but I must admit it was a little disappointing.† It has a big water park, and you can pay to go out and dig for diamonds, but that looked like more kidís entertainment.† The Visitor Center exhibit was good and the history interesting.† Several attempts at commercial production failed, although several big stones were found, and they keep a daily log of how many diamonds visitors find.† But they had a nice picnic area where I had lunch.
Next I lost my faith in GPS navigation.† I put in ďnavigate to Mountain ViewĒ and it took me down some dirt road that first looked like it was being improved, so I went on expecting a nice shortcut.† After about 3 miles down some logging road I came to a stream that would have needed a truck to ford, so I turned around and went back to Murfreesboro to try again, and I checked the GPS details carefully before trusting it again.† With the half hour backtracking and 5 hour drive it was after 6:00 when I got to Mountain View, where I wanted to see the Ozark Folk Center.† Itís a state park without campsites, but the book said camping nearby so I drove around and saw only RV parks.† I tried one, Whitewater RV Park, and they had a really good deal for tenting, just $10 (plus tax) for a site with no electricity (that would have been another $3) and a bathhouse with hot water and showers.† That sure felt good after 2 days on the road.† A lot less scenic than my Caddo campsite, but a lot more practical, and an even better deal for only $2 more with hot water and showers.
I had a good sleep, good weather but hot even with all the open screen on my tent.† The RV park had free wireless Internet, so after I had my breakfast and packed my car I spent an hour or so doing email.† Then I headed off in the rain (Iím glad that didnít start until the tent was packed) to Blanchard Springs Cavern, a state park but the cavern operated by the National Forest Service.† I was attracted to Mountain View and the caverns because weíd visited before in 1986 when we took a family vacation from Houston to Arkansas.† The cavern has two tours, the easy more scenic one which I expect we took 22 years ago with the children, and a longer one, 1 hour 40 minutes with 700 steps, which I took.† And I got to use my rain suit, not for wet but for cold in the 58 degree underground air.† Unlike many caves, this one lets you take photos:
The rain was quite heavy but mostly stopped by the time the tour finished about 12:30, so I had my lunch in a park picnic shelter, deserted because of the rains.† So I thought, where to from here?† It will be an easy two day drive to Chicago, so I thought why not stay in Mountain View and take in the Ozark Folk Center and its evening music show, and get a motel room since the weather is iffy.† So I did, and really enjoyed it.
I was struck by the similarity of this Ozark Folk Center to the Cajun Cultural Center in Eunice, LA, which Diane and I have visited several times.† But unlike the Cajun music show which seemed to have mostly old folks (the ďblue rinseĒ crowd), this Ozark center had a lot of young people.† The fiddler in the photo is only 13, and the state junior champion.† I bought a CD of one of the young women who performed in the evening, I think they said she was 17.† And lots of young square dancers.† This seems to be a culture with a future.
So tomorrow (Thursday, July 10) I expect to head across Missouri into southern Illinois, to be within an easy drive of Chicago on Friday.
2008-07-07 On the road
I headed off on my long-planned road trip on July 7.† Diane saw me off and took this picture:
>>photo behind our house in Houston
I was loaded for camping, and spent the first night at Caddo Lake State Park, very economical at just $8 for a water-only site (no electricity).† I was practically alone in the tent camping area, and right by the lake, the only natural lake in Texas and more of a cypress swamp.† I pitched my tent after driving around to find dinner.† Iíd been looking forward to a catfish dinner at a place Diane and I had gone on my 58th birthday, but it was closed on Monday and Tuesday.† So were all the other restaurants in Uncertain, TX, it seems this is a weekend place and the locals have their time off after the visitors go home.† I did find a convenience store where I got a BBQ beef sandwich microwaved and a bag of chips and a jar of pickles Ė kept me fed, but far from the nice meal Iíd had in mind.
>>photo of campsite
>>photo thru tent door
Above is the view from my tent door.† It was a nice night for sleeping outside, no wind and no bugs inside the tent once I zipped up, but plenty noisy with all the birds, bugs, and bullfrogs outside.† The $8 site did have water, but the bathroom was down the road and had no shower and only a sink with cold water.† Pretty basic, but a beautiful spot.† I slept OK on my folding cot, but woke up at 5:30 and got coffee on to boil before dawn, cut my grapefruit, and ate my granola.† It took a while to pack everything up, but I was on my way about 7:40, heading for Arkansas and the Crater of Diamonds.† Iím writing this sitting in a McDonaldís in Texarkana where they have wireless, about 9:30 on July 8.
2008-06-30 Retirement
I retired from BP June 30, 2008, after 26 years with the company.† Hereís what the announcement said:
Daniel Johnson joined Amoco International Production Co. in Houston on March 18, 1982, as a Sr. Geophysicist. He began his career in the mining industry with International Nickel (INCO) in 1969, and also worked for Suncor in oil sands mining in Canada before coming to Houston to join Amoco as an expert in electrical methods of geophysics.†
His work soon shifted to seismic, especially acquisition, and Daniel developed methods for modeling airguns and testing seismic vibrators before moving to Amoco's Tulsa Research Center in 1988 where he supervised the Seismic Acquisition team. This included Amoco's long-standing Party 45 field crew, equipped with innovative shear vibrators and cableless Seismic Group Recorders (SGRs), and Daniel transitioned these assets out of Research as priorities changed.†
His personal strategy also shifted from exploration toward production, with his move to Calgary in 1994 where he used 4D seismic to monitor heavy oil steam flooding and learned to do reservoir simulation. Daniel moved back to Houston in 1998 and was glad to be in a more promising place at the time of the BP-Amoco merger.† He continues to be a strong advocate of discipline integration, and has led BP's 4D Seismic to Simulation technology project since 2002, as well as contributing to many reservoir modeling projects in the Reservoir Management team of EPT.
Daniel and his wife Diane Persson will continue to reside in Houston, and Diane will continue to work at the UT Health Science Center. They have two grown children, both married, one in Houston and one in Chicago where the first grandchild was born in May. Daniel is planning a long transcontinental road trip across the US and Canada, returning to Houston before the chilly season up north. He will be available as a SkillsWell contractor after October, but aims to be mostly doing his own hobbies.
Hereís a photo from my retirement lunch.† Thanks to all who helped make it a great day for me!