The Road Less Populated
One often hears of "The Road Less Traveled", and the idea of finding something most people miss has always appealed to me. In 2013 I drove from our home in Houston to meet my wife Diane at her mother's home in Canada. For years before I had looked at maps of population, and even tried to improve them by making my own. I was impressed by how sharply the population falls off as one goes west, so for my trip I aimed to take "the road less populated", and told Diane and our children that I wouldn't go through any place they'd ever heard of until I got to Canada. Once I met up with Diane we decided to take the most famous least-populated road, the Alaska Highway. It's been a wonderful adventure, and I hope more people will seek out opportunities to be around less people.
<![if !vml]>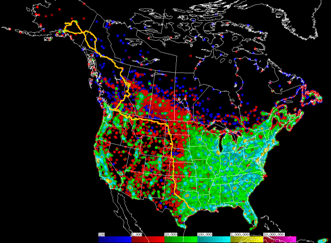 <![endif]> Click image to see full size
The map shows my/our route in yellow, with outlines of the states and provinces, and background color for population. The population is from census data with each cluster spread over a 20 mile radius, and the colors are in bands representing orders of magnitude, each 10 times as many people as the band before, so red areas have about 1 to 8 people per square mile and green about 8 to 80 (see my Census page for more details), and any town with more than 10,000 people will be green (or light blue, yellow or purple for larger cities). There are many areas in the west where census tracts are bigger than 20 miles, so my map has dots with 20 mile radius surrounded by black. I would have liked to drive through these areas, but they are mostly mountainous and without straight roads, so I chose the high plains.
High Plains and High Line
The first part of the trip was a week on the road by myself, getting to Canada. After I left the Houston area via Benham on June 20 [photo], these are the largest places I went through or near before getting to Kalispell, MT on June 26: N of Childress, TX (13,000); Liberal, KS (29,000); Garden City, KS (41,000); W of Oakley, KS (12,000); Ogallala, NE (11,000); SW of Williston, ND (17,000); Havre, MT (15,000); and W of Cut Bank, MT (13,000). I stayed in small towns: Aspermont, TX (1,500); Oakley, KS (5,700); Kadoka, NE (1,200); Hettinger, ND (2,300); Fort Peck, MT (5,900); Shelby, MT (4,100); and Libby, MT (13,500). Population numbers are from my map, within 20 miles of my route rather than any official city population. I paused along the way to visit scenic places and museums. Crawford, TX, gained some notoriety during the Bush "W" years as home to the Texas White House. Hico, TX, has a museum featuring Billy the Kid. Conrad Hilton's first hotel was in Cisco, TX. The courthouse in Paducah, TX, has carved in stone over the door, "THERE IS NOTHING SO POWERFUL AS TRUTH", a quote from Daniel Webster which continues "and often nothing so strange". Canadian, TX, makes for some strange signs, like "Canadian Fire Dept." and "Welcome - Canadian Visitors' Center". Perryton, TX, has the Museum of the Plains which had a sign saying "Oil & Gas Exhibit Down for Up Grade". I stopped at the Mid-America Air Museum in Liberal, KS, the first really urban area I came to since Houston and Brenham. Dams are important for flood control and irrigation on the plains, and the highway north from Ogallala, NE, crosses the Kingsley Dam on the North Platte River before heading into the Sandhills, where I had a picnic lunch. The Sandhills area spurred some controversy over the proposed Keystone XL pipeline, now rerouted to avoid them. In South Dakota I toured the Minuteman Missile National Historic Site on "The Front Lines of the Cold War" where the control center entrance cautions "NO-LONE ZONE TWO MAN CONCEPT MANDATORY" and the soldiers decorated the bunker door with a sign "WORLD-WIDE DELIVERY IN 30 MINUTES OR LESS OR YOUR NEXT ONE IS FREE". I detoured through Badlands National Park after a short helicopter tour [photo]. In North Dakota [photo] I drove into Theodore Roosevelt National Park and stopped at the Missouri-Yellowstone Confluence Interpretive Center and the Fort Union Trading Post National Historic Site, avoiding the nearby city of Williston by more than 20 miles but not by enough to avoid the traffic of the current oil and gas boom. Nearby in Montana, the Fort Peck Dam is another legacy of the Depression and PWA construction. The Blaine County Museum in Chinook, MT, tells the story of one of the last battles of the US Indian wars, where the Nez Perce tribe surrendered while trying to flee to Canada; I paralleled the border on the High Line, Highway 2. In Havre, MT, I stopped to deal with one of the less welcome features of lonely roads, a rock chip in the windshield -- even on paved roads there are more stones flying -- but balanced the hassle with a visit to a buffalo jump excavation. I skirted Glacier National Park, not because it's unattractive but because I've been there several times before, and overnighted in Libby, MT, after touring the Libby Dam. Some people think the only thing worth seeing in the West is mountains, but I found plenty on the plains.
My route was:
June 20, from Houston on highway 290 to Brenham, north on 36 to Cameron, north on 77 to Chilton, west on 7 and 107 (avoiding Waco) to Moody, north on 317 to Valley Mills, northwest on 6 to Eastland, Cisco, and Stamford, west on 283 to Aspermont;
June 21, from Aspermont, TX, north on 83 through Paducah, Shamrock, Canadian, and Perryton, TX, across the Oklahoma panhandle to Liberal, KS, and Oakley;
June 22, from Oakley, KS west on 40 a few miles, then north on 25 to Colby and Atwood, and still on 25 in Nebraska through Trenton to Wallace, west on 23 to Grant, north on 61 through Ogallala, Arthur, and Merriman into South Dakota onto 73 to Martin, east a few miles on 18, then north on 73 to Kadoka;
June 23, from Kadoka, SD, I detoured through Badlands National Park via I-90 and highway 240 to Wall, then back east on 14 to Philip and continued north on 73 through Howes, Faith, and Shadehill, to US highway 12 and west into North Dakota to Hettinger;
June 24, from Hettinger, ND, west on 12, north on 22 to New England, ND, then west on 21 to 85, then north to Watford City and Alexander, west on 200 and north on 58 (avoiding Williston) to the Fort Union Historic Site, then west into Montana on a gravel road, 327 to Bainville, west on 2, the "High Line" to Nashua and south on 117 to Fort Peck;
June 25, from Fort Peck, MT, west and north on 24 to Glasgow, back on 2 through Chinook and Havre to Shelby;
June 26, from Shelby, MT, west on 2 around the south end of Glacier National Park and through Kalispell to Libby;
June 27, from Libby, MT, west on 2 into Idaho, through Bonners Ferry, Sandpoint, and Priest River to Newport, WA, then north and west on 20 through Tiger, Colville, and Republic to Tonasket, then north on 97 through Oroville to cross into Canada.
Family in Canada
On June 27 I crossed into Canada in the Okanagan valley and spent a couple days visiting friends in Oliver, BC, before I got to the first big city since leaving Houston -- Vancouver, BC, where my father lives within 20 miles of 2 million people. On July 1, the Canada Day holiday, I was back in the boondocks after leaving the 4-lane Trans-Canada Highway at Kamloops, BC, past the highest peak in the Canadian Rockies [photo], and spent the night near Miette Hot Springs in Jasper National Park. The next day I met up with Diane in her hometown, Rycroft, AB, which had 500 people when she grew up there in the 1950's and has about the same now. Diane came to help her mother transition from living at home with her husband, into a care facility that fits their health. This involves some waiting, and we got inspired to take a road trip I've long imagined, to Yukon and Alaska; looking at the map we realized that Rycroft is already more than half way there from Houston.
Alaska Highway
We began our Alaska Highway trip [photo] July 17 with the short hop to Dawson Creek, BC, Mile Zero of the historic highway. My brother lives there, and lent us a tent in case we wanted to camp, or needed to if hotels were full. This was partly a nostalgia trip for me, since our family lived in Dawson Creek from 1954 to 1957 and we drove the highway as far north as Whitehorse in 1956 when I was 8 years old. I hadn't been beyond Ft. St. John (Mile 48) since then, and we carried on to Ft. Nelson (Mile 300) the first day. When the US army built the highway in 1942 it was marked with mileposts, and these became a defining feature, still quoted or noted even though the road is now straighter and shorter and measured in kilometers in Canada. I still remember the historic wooden mileposts, although these are now found only in museums or a few historical monuments. The classic tourist guidebook is called the Milepost, updated annually and now in its 65th edition for 2013.
Our second day was a short drive, but scenic and lots of wildlife, even a moose grazing in a pond right beside the road. We took a hike near Summit Lake, bathed in the Liard River Hot Springs [photo], and stayed overnight at the nicest hotel for hundreds of miles around, the Northern Rockies Lodge on Muncho Lake. We doubled back to Muncho [photo] from the hot springs since it looked short on the map, but that section was being rebuilt so included 15 km of slow and very dusty gravel road, both ways. It was a long drive the next day, again through the construction, and on to Whitehorse, the capital of Yukon. I'm sometimes confused to hear on the radio that Yukon has a college champion basketball team, but I think that indicates how little Yukon features in the minds of most Americans. We found the shiftless aboriginals hanging around the dusty streets rather depressing, and for a town that depends on tourism we were surprised how early things closed. Most enjoyable was Miles Canyon, with rapids that gave Whitehorse its name, and surprisingly no guardrails along the edge -- I recall my parents cautioning me in 1956 to stay back. The canyon prevented steamboats from going further upriver so this became the railway connection to the coast when gold drove the development of Yukon Territory, especially the biggest gold rush, the Klondike in 1898.
After a couple days in Whitehorse we drove to Dawson City, sometimes called just Dawson but not to be confused with Dawson Creek, or Dawson's Creek of TV fame. Along the way we passed Lake Laberge, which every Canadian schoolchild recalls from Robert Service's [photo] famous poem "The Cremation of Sam McGee" since most of us had to memorize at least the first verse, "There are strange things done in the midnight sun / By the men who moil for gold; / The Arctic trails have their secret tales / That would make your blood run cold; / The Northern Lights have seen queer sights, / But the queerest they ever did see / Was that night on the marge of Lake Lebarge / I cremated Sam McGee." (Note the varied spelling of Laberge/Lebarge.) Dawson City, at the confluence of the Klondike and Yukon rivers, boomed after news of the discovery of placer gold on nearby Rabbit Creek (quickly renamed Bonanza Creek) [photo] in 1896 brought thousands of prospectors to seek their fortunes in 1898. The 1898 population reached 40,000 but quickly shrank to 8,000 the next year and only about 1,000 after 1910 once gold fever subsided and the best claims were consolidated for industrial mining by dredges. Some small mining operations continue, but tourism is the main industry and Parks Canada has restored many sites.
Dawson City is the end of the paved road, but a ferry crosses the Yukon River to connect with the Top of the World Highway [photo] to the Alaska border. We had perfect weather for the trip, driving along high on ridges overlooking scenic valleys. There was no wait at the border, where a sign said, "MOST NORTHERLY LAND BORDER PORT IN THE USA" but no sign for toilets, so we headed for the bush and incurred the wrath of the border guard who yelled that toilets were a mile down the road. Our welcome to the USA was further compromised as we went from the swift, smooth gravel road on the Canadian side to the slow, rough rocky road on the American side. We figured that Alaskans don't use this road much and care little what a few tourists think. We'd planned to stay in Tok, the only town in Alaska that all roads in or out go through, but our early start and good luck with ferry and border waits put us there early so we pressed on to Fairbanks.
Fairbanks was the mostly northerly point on our journey, almost 65 degrees latitude. Our highlight was the University of Alaska, which has the state's major museum where we spent most of a day, and returned in the evening [photo] for Shakespeare in the park -- they stuck to the script so Romeo and Juliet both wound up dead. We learned the economic appeal of "dry" housing, which has nothing to do with alcohol but where students get cheaper rent without running water or toilets, since plumbing is expensive on permafrost.
Denali National Park is a big draw for tourists, a couple hours drive south of Fairbanks. The highest mountain in North America is the centerpiece, officially named Mt. McKinley but controversy over the political process for assigning the name continues and the state of Alaska and most Alaskans and tourists call it Denali, its long-standing local name derived from aboriginal language. The weather cooperated so we were able to see the peak from the highway [photo], and also took a one-hour sightseeing flight around it [photo], spectacular with glaciers and steep rock faces. We didn't climb Denali, but did hike up Mt. Healy [photo] near the park entrance, 3 miles each way and 500 meters elevation change and a great overlook.
From Denali we continued south to Anchorage, on the Pacific coast and Alaska's largest city. I was most impressed with the float plane base, with hundreds tied up at docks, mostly small single-engine aircraft [photo]. We had a great seafood meal at the Bridge restaurant over Ship Creek, but our touring enthusiasm was on the wane with the big events behind us, so we were happy to head for home after staying a couple nights, and again bypassed Tok [photo] to cross the border and stay at Beaver Creek, Yukon. Here we had the opposite experience from arriving in Alaska via the Top of the World Highway -- a long wait for Canada Customs and the road going from smooth and swift  to choppy frost heaves and potholes on the Alaska Highway. Beaver Creek bills itself as the most westerly community in Canada, with really no other attractions than a place to sleep. The road got better as we passed by Kluane National Park on the way to Whitehorse, with an afternoon stop at Takhini Hot Springs so I could revisit the place my parents took me in 1956 (disappointing).
On the way back we tried to revisit highlights as well as hit a few places we hurried by on our way up, like the museum in Teslin where a trapper had bought a car before there was a road. We stayed again at the Northern Rockies Lodge on Muncho Lake, after another dip in the Liard River Hot Springs, a great spot which is as memorable today as I remembered from 1956. I discovered it's an alchemist's dream, turning silver into gold. After 20 minutes in the hot mineral water I noticed that a silver ring I was wearing had turned gold [photos silver, gold]. The effect was quite striking, at least to me, and I hope the other pool visitors I showed it to didn't just think I was weird. From Muncho Lake we drove all the way back to Mile Zero [photo] in Dawson Creek the next day and overnighted with my brother before the short trip back to Rycroft on August 3, 17 days after we left.
Wrap up
I was fascinated with the shimmering mirage that is often seen far ahead on the road [photo]. It looks like a reflection of the sky in a puddle of water, caused by heated air above the road surface bending light rays upward. This much explanation is easy to find online, but as a geophysicist I was curious about the details: how hot, how thick, how stable in the face of wind and traffic? I was disappointed in the quality of information I could find online, and some people even doubt that it's a mirage -- the best scientific paper I found was skeptical, "Road surface mirage: A bunch of hot air?" (in Chinese Science Bulletin). I kept a close eye on the road mirages I saw, found what I could online, and worked out some physics myself. I think the heated air causing the mirage is about 1 cm thick, plausible for a boundary layer even with some wind, with maybe 10 degrees Celsius temperature change over this interval so the index of refraction of the air changes from about 1.00026 to 1.00027, making light rays bend along a circle with a radius of about 1000 m. If the road is flat the 1 cm thick bending layer would fit close to 1 degree of total bend, so the mirage could appear 1 degree below the horizon. Bigger bends can be accommodated if the road isn't totally flat, and indeed one often sees these road mirages as puddles in low spots on the road. My physics is all back-of-the-envelope, so I hope someone can point me to better published science on this fascinating topic.
We heard a lot about the aurora on our Alaska Highway trip, and couldn't recall seeing one ourselves since we first moved to Houston in 1982. The Sun is now at the peak of its 11 year cycle, so we decided to keep our eyes open for the aurora, and were rewarded with a spectacular one the night of Aug. 22, bright streaks and curtains with distinct colors despite a near-full moon. Maybe we'll get lucky again as the days get shorter and the nights get longer.
This was an unusual summer for us, where almost nothing went as planned. We had talked for years about spending summers in Canada when we retired, but not like this. Health problems with Diane's mother and her husband brought us here earlier and for longer than we'd planned, and even our plans for September were preempted as we decided to stay until Diane's mother moved into a seniors lodge. I expect I'll have less time to work on a summer summary once we leave Rycroft and head for home, so I'll wrap this up now.
Photos
I took dozens of photos, but to keep this webpage small I'll only put a few here as thumbnails which can be clicked to see full size. I also put links to some of them in the text above.
<![if !vml]>

<![endif]>Picnic site near Brenham, TX, with a stile to cross the fence into a field to find a tree to go behind.
<![if !vml]>

<![endif]>Helicopter flight over Badlands National Park, SD.
<![if !vml]>

<![endif]>Highway and prairie sky in North Dakota, with shimmering mirage in the distance.
<![if !vml]>

<![endif]>Zoom in on the shimmering mirage, reflecting the blue sky.
<![if !vml]>

<![endif]>Mt. Robson, BC, highest in the Canadian Rockies with the clearest view I've seen of it, on a hot July 1.
<![if !vml]>

<![endif]>Getting ready to leave the house in Rycroft for the Alaska Highway.
<![if !vml]>

<![endif]>Muncho Lake, BC, recreating the "Thinker" pose I recall my parents took of me in 1956.
<![if !vml]>

<![endif]>Enjoying the Liard River Hot Springs.
<![if !vml]>
<![endif]>Robert Service cabin in Dawson City, YT.
<![if !vml]>
<![endif]>Overlooking Dawson City and Bonanza Creek from the Midnight Dome.
<![if !vml]>

<![endif]>Cairn at the summit of the Top of the World Highway, near the Canada-US border.
<![if !vml]>

<![endif]>Fairbanks, AK, near the UAF Museum and outdoor theater.
<![if !vml]>

<![endif]>Mt. Healy overlook in Denali National Park.
<![if !vml]>

<![endif]>Flying around Denali.
<![if !vml]>

<![endif]>Mt. McKinley, aka Denali, from the highway.
<![if !vml]>

<![endif]>Float planes in Anchorage, AK.
<![if !vml]>

<![endif]>Picnic lunch along the Tok Cutoff.
<![if !vml]>

<![endif]>Alchemy 1, silver; Liard River Hot Springs.
<![if !vml]>

<![endif]>Alchemy 2, gold; Liard River Hot Springs.
<![if !vml]>

<![endif]>Back to Mile Zero, Dawson Creek, BC.